Collecting Highlights
4/1/2006: "Habit is an Old Horse" (chapbook edition)
by Cheryl Miller
"Habit is an Old Horse" tells the story of Knock, an old horse who is forlornly waiting for his rider to come amidst an unusual gathering of humans. The story was originally published in 1979, for an anthology of stories by authors such as Anne who had relocated to Ireland, and which were to be inspired by or otherwise connected to their new homeland.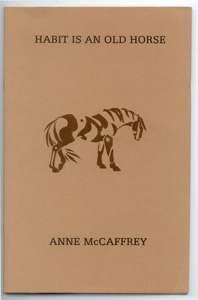 In March 1986, when Anne appeared as guest of honor at Norwescon 9 in Seattle, WA, USA, this short story was reissued in a chapbook of the same title, and included with it a new short story, "Fallen Angel," which has never been republished. Somewhat ironically neither story is science fiction (ironic as it was published for a scifi convention). The cover illustration was done by Janet Kramer.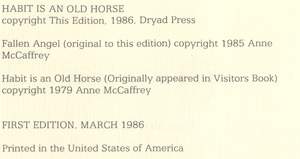 Copyright page
Dryad Press published 400 total copies of the chapbook, as follows:
8 lettered copies, signed by Anne, bound in leather and stamped with gold foil lettering and a horse in silver foil. No dustjacket or slipcase. No issue price; likely these were presentation copies for specific individuals.
50 numbered copies, signed by Anne, bound in brown cloth, with silver foil lettering on the front board and gold foil on the rear, with a dust jacket. Original issue price of $15 US.
342 copies, unsigned, staple bound in brown wrappers (a stiff paper/cardboard), $3 US original issue price. (Above image is of this binding state)
As is fitting to the subject matter of the story, the chapbook contains a photograph of Anne and her beloved horse Mr. Ed.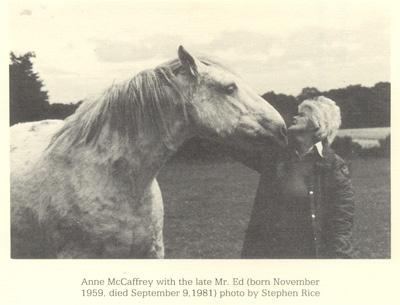 As of 4/1/2006 about 8 copies of the third binding state (the 342 stapled wrappers) were for sale through online used bookstores, with prices varying from $100 (For a fairly damaged copy) to $375 (US). I don't recall ever coming across copies of the first two binding states for sale. For tips on locating copies of this or other items, email Cheryl (address in page footer) or post a message at A Meeting of Minds.
Previous Highlight Return to Collecting Highlights Index Next Highlight