Collecting Highlights
6/1/2006: "A Time When"
by Cheryl Miller
A Time When (being a tale of young Lord Jaxom, his white dragon, Ruth and various fire-lizards.) is a novelette that was published in limited numbers, preceding the publication of The White Dragon by three years. Because the events of A Time When were expanded upon in The White Dragon, it was never republished and many fans have never heard of it -- though any that have looked at the copyright page for The White Dragon should have noticed it's mention there and been curious. Conversely, A Time When's copyright page notes that it comes from the forthcoming White Dragon.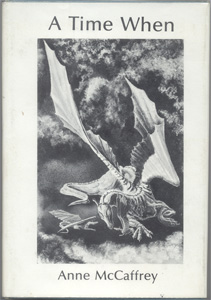 A Time When cover, 2nd binding state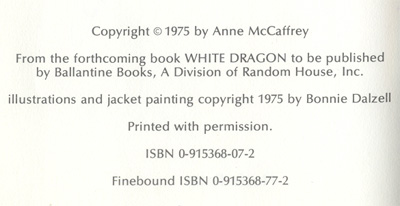 A Time When copyright page


The White Dragon copyright page
A Time When is a hardcover book published by Nesfa Press (Nesfa being the New England Science Fiction Association) in 1975, in conjunction with Anne's Guest of Honor appearance as Boskone 12, which was held Feb 28th to Mar 2nd, 1975 in Boston, Massachusetts. The cover and three interior illustrations were done by Bonnie Dalzell, who was the official artist of the convention.
Two binding states were made, as follows:
20 copies, lettered A through T, signed by both Anne and the illustrator, bound in leather (three quarter leather, on spine and corners) and marbled paper. Gold foil was used for text lettering and a decorative design on the spine and boards. Hargreaves reports that brown leather was used, while NESFA's site states that some copies had blue leather rather than brown. These 20 copies were sold for $40 US to persons with advanced subscriptions only.
800 copies, numbered, signed by Anne (though perhaps not all copies were signed, according to the NESFA site). Bound in blue cloth with silver foil lettering, and a dust jacket. Any of the 935 guests at the con that purchased the book for the original price of $6 US will have had their purchase appreciate in value approximately 50 times! (Those that didn't bother buying one must be kicking themselves now!) The book didn't sell out at the convention as NESFA's website states that the price was raised to $7 US in December 1975.
Besides being the first published story centered on Jaxom, A Time When also marks the first appearance of a Dragondex within a Pern book. The Dragondex was compiled and designed by Wendy Glasser, from the data in Dragonflight and Dragonquest. More information on Glasser's Dragondex will be given in my next Collecting Highlight.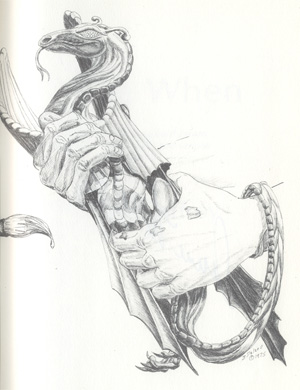 The frontispiece by Bonnie Dalzell. I read a description somewhere that called this a picture of a firelizard in distress. Certainly he doesn't look happy -- perhaps because of the that paintbrush tip about to tickle his belly?
As of 6/1/2006 I can find 7 copies for sale, for prices ranging from $295-800 (US). For tips on locating copies of this or other items, email Cheryl (address in page footer) or post a message at A Meeting of Minds.
Previous Highlight Return to Collecting Highlights Index Next Highlight