Collecting Highlights
1/15/2006: The Girl Who Heard Dragons (Cheap Street special edition)
by Hans van der Boom
This year it will be twenty years Turns ago that the short story A Girl Who Heard Dragons was first published. Now we probably all have this book in a hardback or paperback collection-of-short-stories edition (Tor) and many of you won't even know that it also exists in two, very rare, special editions. The first publication of this book consisted out of only 199 copies (I wonder what ever happened to that one that would have made a full 200 probably a misprint, which would be incredibly rare and valuable).
This edition was published by the famous Cheap Street publishing house in New Castle in 1986. To this first edition there were to, so called "states", all copies of both states were signed by author and artist.
There was the "Publishers Edition" with ¼ leather bounding on the spine and board corners with the rest of the boards being covered in paper matching the endpapers. The spine had gold foil lettering stamped on it. It holds illustrations by by Judy King-Rieniets and was presented in a cloth covered tray case. Of this "state" 7 lettered and 55 numbered copies were made and hopefully exist to this day.
Yes, that only makes 62 copies There was also the "Collectors Edition" which had 5 lettered and 132 numbered copies. This editions however was bound in brown cloth with a paper strip stamped with the author's name and affixed to the spine. It has brown endpapers. It has the same illustrations as mentioned above and was also presented in a slipcase, covered with the same cloth as the book.
I had never even seen a good photograph of this book until I discovered it on a shelf in Anne's workroom in Dragonhold-Underhill in Ireland. Imagine my delight to find a little chronology, of the Pern story which gives the book its title, printed in the book. A little list that is just a treasure for a Pern Master Archivist / genealogist; a little list that does not appear in any of the later mass market editions. In my honest opinion it holds mistakes, but then... Still, it's official, it's Anne's and some dates can be used. This is how I knew the exact Turn in which K'van Impresses Heth, and other dates were written somewhere black-on-white although you can also deduce it.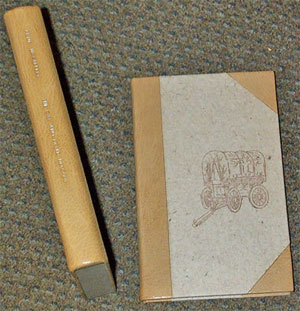 A discrepancy that must be mentioned is that Anne's edition (which seems to be one of the 62 of the "Publisher Edition" (but dratted me forgot to copy if it was a lettered or numbered one) gives 1985, New Castle, Virginia, US as year and place of publication and not 1986 as Hargreaves (p. 98) gives.
You're a die hard Pern fan and you want to see the list? Alright, here it is
Fax takes Ruatha 2395
Dowell leaves hold 2396
Aramina born Tillek 2401
Fax dies, Lessa to Benden 2405
Dowell hears news 2406
Works 3 Turns at Keroon 2408
F'lar Weyrleader 2408
Begin 9th Pass 2408
Aramina hears dragons 2409
Dowell working in Keroon for 2 more Turns 2411
K'van Impresses Heth 2412
Dragonquest events begin
Dowell moves to Igen 2413
Mirrim Impresses Path 2414
Jaxom Impresses Ruth 2415
Present time for Aramina 2415
Accident to wagon 2416
When you search for this edition on the internet Amazon will list a couple of them that go for a price of well over 2000 US dollars (ships within 3-5 days… yeah, sure). More realiable, and even rarer than the books mentioned above, is the one copy that is currently being offered by bookseller Barry R. Levin through www.abebooks.com for "a mere" 1200 US dollars (677 UK pounds / 991 Euros) excl. $ 3.75 Postage!! Mind you, this seems to be one of an ultra rare set of 7 copies of an uncorrected proof not listed in even Hargreaves. A fact for which authenticity I can't vouch of course. The seller's is not totally clear and does mention 7 copies, which is also exactly the limitation for the "Publisher's Edition" lettered set, although the appearance of the copy he offers is that of the "Collectors Edition".
All in all a beautiful story (even though many fans hold Aramina in low regards, which I do not) by a beautiful author in a beautiful edition. This edition beats the Easton Press editions (which I actually think are rather ugly) of Anne's books hands down! Special thanks to Cheryl for coming when I called and taking the pictures.
Pictures of the Presentation Copy version of the Collector's Edition
Cover (the really light parts of the wood grain are gilded):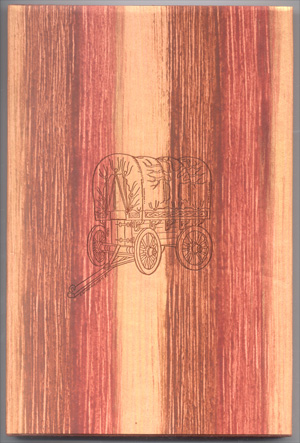 Title Page: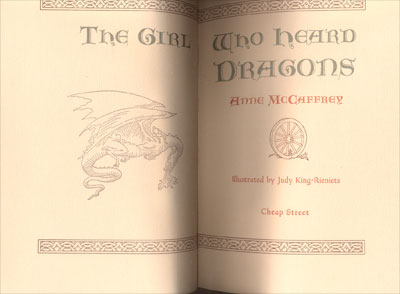 Copyright Page: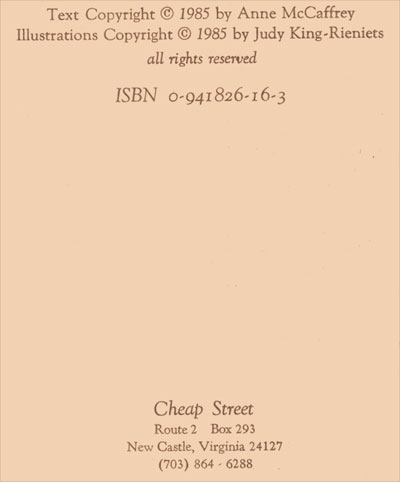 Edition Page: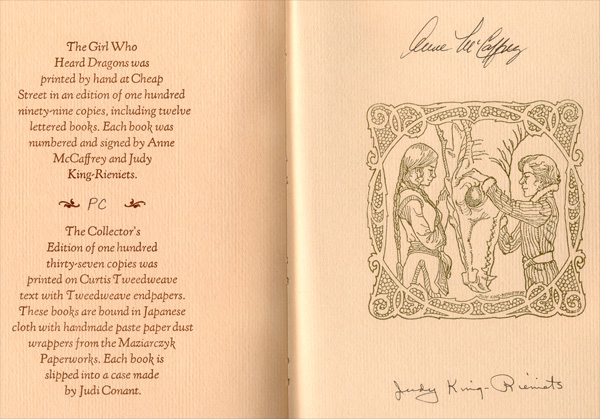 Previous Highlight Return to Collecting Highlights Index Next Highlight